Soft Skills for Drivers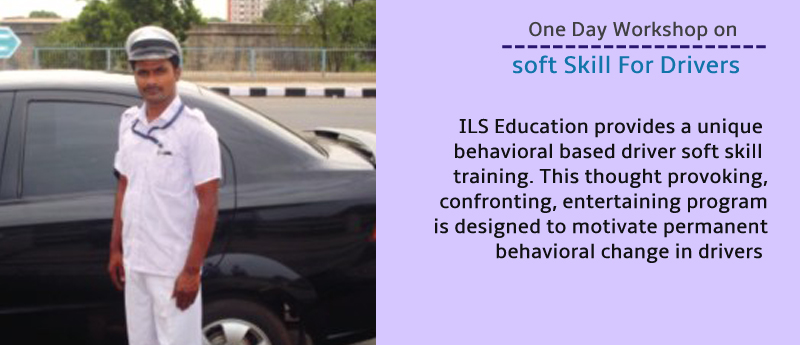 KEY FEATURES
• INCREASES DRIVER AWARENESS
• MOTIVATES BEHAVIORIAL CHANGE
• UTILISES A RESEARCH BASED APPROACH
• FOCUSES ON VALUES & BELIEFS
KEY BENEFITS TO CORPORATES & INSTITUTIONS
• PROMOTION OF BEING A GOOD CORPORATE CITIZEN
• PREVENTS SERIOUS INJURY & DEATH
• AVOIDS COLLISIONS
• REDUCED OPERATING COSTS
• COMPLIANCE WITH REGULATIONS
• ENHANCED PUBLIC SAFETY
Code
Classes and Timing
Location
SS001
Monday to Saturday (Partime or Fulltime)
Any Where
CHANGE ATTITUDES & DRIVERS BEHAVIOR
ILS Education provides a unique behavioral based driver soft skills training program considered by the industry experts to be a quantum leap in off school driver education program. This thought provoking, confronting, entertaining program is designed to motivate permanent behavioral change in drivers
WHY IS IT IMPORTANT TO PROVIDE DRIVER TRAINING?
Corporate and Institutions are increasingly facing lot of issues in day-to-day life in managing their driver behaviors and safety to their passengers. All these issues are arisen due to lack of soft skills in most of the drivers.
SO WHAT CAN YOU DO ABOUT IT?
There are number of strategic approaches that are proven to produce desired outcomes but it is important to understand what we mean by driver's soft skills training program.
PROGRAM FORMAT
The program kick starts with life value systems in their native language addressing a range of thought provoking topics. It is delivered in the way that will engender a desire for participants to want to modify their existing -ve & unsafe behaviors
OUR WORKSHOP SERVES A MULTITUDE OF PURPOSE
It highlights why we should choose one approach over other. It challenges drivers to redefine their risk thermostat based on what is important to them in a holistic view of safety. It provides drivers with information necessary to make informed choices on road and off roads.
To whom: Corpoartes / Institutional Drivers
Duration: 1 Day Program
Prerequisites: Basic Driving Skills
Coures Content: As Above
For more information, contact K. Elangovan at 9444002994 or winwinelango@yahoo.com